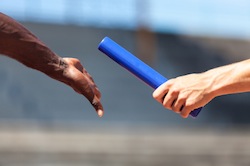 Even though the Olympics are over, my kids are still whipped into a frenzy. Fiona has a new passion for volleyball, and Molly is signed up for gymnastics in the Fall. I know we aren't alone; households all over the world are currently filled with children dreaming of gold medals.
So what does it take to become an Olympic athlete?
Here are five things we can do to encourage our blooming Olympic hopefuls. My latest post on the blog at UC Berkeley's Greater Good Science Center draws on studies to help your kids go from being good at something to being great at it!
Looking for other ways to foster success in your kids?
You may be interested in my live group coaching theme this September: Fostering Academic Success. It's not for everyone, but if you want specific guidance from me on to how to raise a successful and engaged learner (but not a perfectionist!), this may be for you.
Like this content? Sign up for our FREE Happiness Tips email!