Many of us are really gearing up for the next wave of holidays right now, and are perhaps feeling a bit overwhelmed. This year, instead of automatically going into holiday overdrive, take a moment to reflect on what is important to you, and make a plan to simplify your holidays.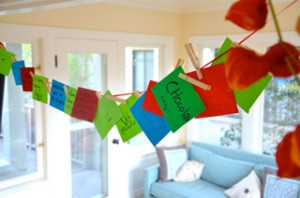 Take Action: Follow these instructions from the Center for a New American Dream's "Simplify the Holidays" booklet:
1. List all the holiday-related tasks for which you were responsible last year (e.g., buying gifts, making cards, decorating the house, guests, etc.).
2. Put a star next to the activities you truly enjoyed. Look at your list and consider the following questions:
Which activities could you scale back to reduce stress?
Where can you enlist help to make tasks easier and more fun?
Which activities could you cut out altogether?
Which activities do you find particularly enriching, and worthy of more time and effort?
Join the Discussion: What holiday activities will you be nixing this year? Which ones are worthy of your time and effort? Share with us by commenting below!
Looking for more tips for simplifying the holidays? Check out this fantastic little booklet.