A lot of my new book is about easing the overwhelm that comes from the busy world we live in. Here are 9 of my favorite ways:
Make your bed. There is something true about the adage that the state of your bed is the state of your head.
Set your phone to automatically go into silent mode an hour before your bedtime. Enjoy the peace and quiet.
Develop a way to "give good no." As in: "Thank you so much for asking, but that isn't going to work out for me right now."
Turn off your TV unless you intend to watch something specific. Never watch commercials — record your show and skip through them.
Eat at least one meal a day without doing anything else at the same time. No driving, reading, or responding to email.
Make decisions about routine things once. Buy the same brands at the grocery store every time; get the same outfit in different colors so you don't have to decide what to wear every morning; prepare the same basic meals most week days.
Clean out one drawer or shelf a day. Eventually, everything in your home will have a place, and this will make it easy to find what you need when you need it.
Establish "predictable time off" with your colleagues and family. When will you commit to not working? Start with dinnertime, work up to weekends.
Stop multi-tasking. It makes you error prone, and even though you think you're getting more done, it's actually quite inefficient.
---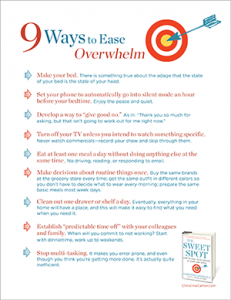 Click on the image to download a beautiful printable version of my 9 Ways to Ease Overwhelm list.
If this list resonates with you, I hope you'll consider pre-ordering my new book, The Sweet Spot: How to Find Your Groove at Home and Work. In it, I go into a great deal more detail about overcoming overwhelm and other stress.
May you be happy,