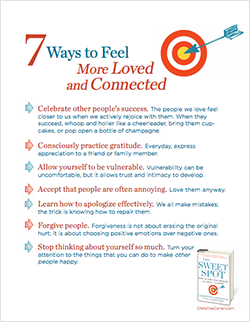 Sign up to receive my weekly Happiness Tips emails and we'll send along a download link for a printable list of 7 Ways to Feel More Loved and Connected.
HAPPINESS TIPS TESTIMONIALS
"Each Happiness Tip takes less than one minute to read, but they make me think, and they make me happier. I share them all with my clients."~ Kendra Perry, Wellness Coach, Chico, CA
"Fabulous advice that works." ~ Tweet from Dr. Alex Barzvi, NYU School of Medicine, New York
"Christine Carter is smart, witty and real. And she knows her stuff." ~ Robert, film producer, Los Angeles, CA
Read what other people are saying about the Happiness Tips.