---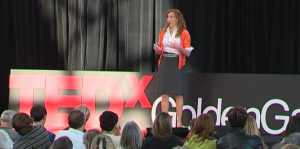 Schedule a Speaking Engagement
Please submit your information on our online inquiry form to schedule Dr. Carter for a speaking engagement. Someone will respond to your inquiry within 2 business days.
Get started here »
PLEASE NOTE: While Dr. Carter occasionally reduces her fees for non-profit organizations and special book events, she is currently totally booked through 2016 for all such events. She is only able to consider full-fee events at this time. We will begin booking special events again for 2017 in October 2016.
---
Upcoming Speaking Engagements & Classes
Thursday, April 14, 2016
Webinar: Finding Your Sweet Spot at Home and at Work
with Christine Carter, Jessica DeGroot, Emma Plumb
Thursday, April 21, 2016
Watermark Conference for Women
Silicon Valley, CA
Thursday, April 28, 2016
Google, Inc. Women's Leadership Development Workshop (Private Event)
Calistoga, CA
Thursday, May 12, 2016
The Cooper Companies Global Wellness Conference (Private Event)
Napa, CA
Thursday, May 19, 2016
The Aspen Institute (Private Event)
San Francisco, CA
Thursday, June 09, 2016
Juniper Networks Wellness Conference (Private Event)
Sunnyvale, CA
Tuesday, November 15, 2016
Texas Conference for Women
Austin, TX
Read what people are saying about Dr. Carter's speaking events.