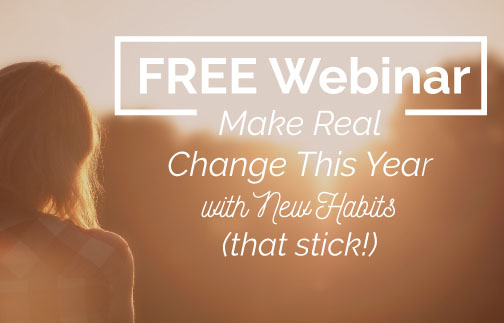 YOU'RE INVITED! 
What: A FREE live Q&A about HOW TO MAKE THE RIGHT RESOLUTIONS
When: Thursday, January 14 at 12:00 PM PST
RSVP: Register here!
I'll be the first to admit that my New Year's Resolutions used to be a disaster. Seriously, I would spend the week before New Year's crafting a perfectly ambitious new self (on paper) only to have given up at this point in January. I'll teach you how to set goals that are realistic and achievable, and that will stick with you over the long-term. Start the New Year from a position of strength! I'll answer the question you've posted on this Facebook page, and I'll give loads of examples of how to make a resolution that will stick.

Note: This one-hour webinar supports a 12-week coaching program, 90 Days to a New Habit (that Sticks!). If you haven't already signed up for that email, text, and workbook based coaching program, it's not too late to start, and it is also FREE. Enroll in the free 90-Day coaching program here.