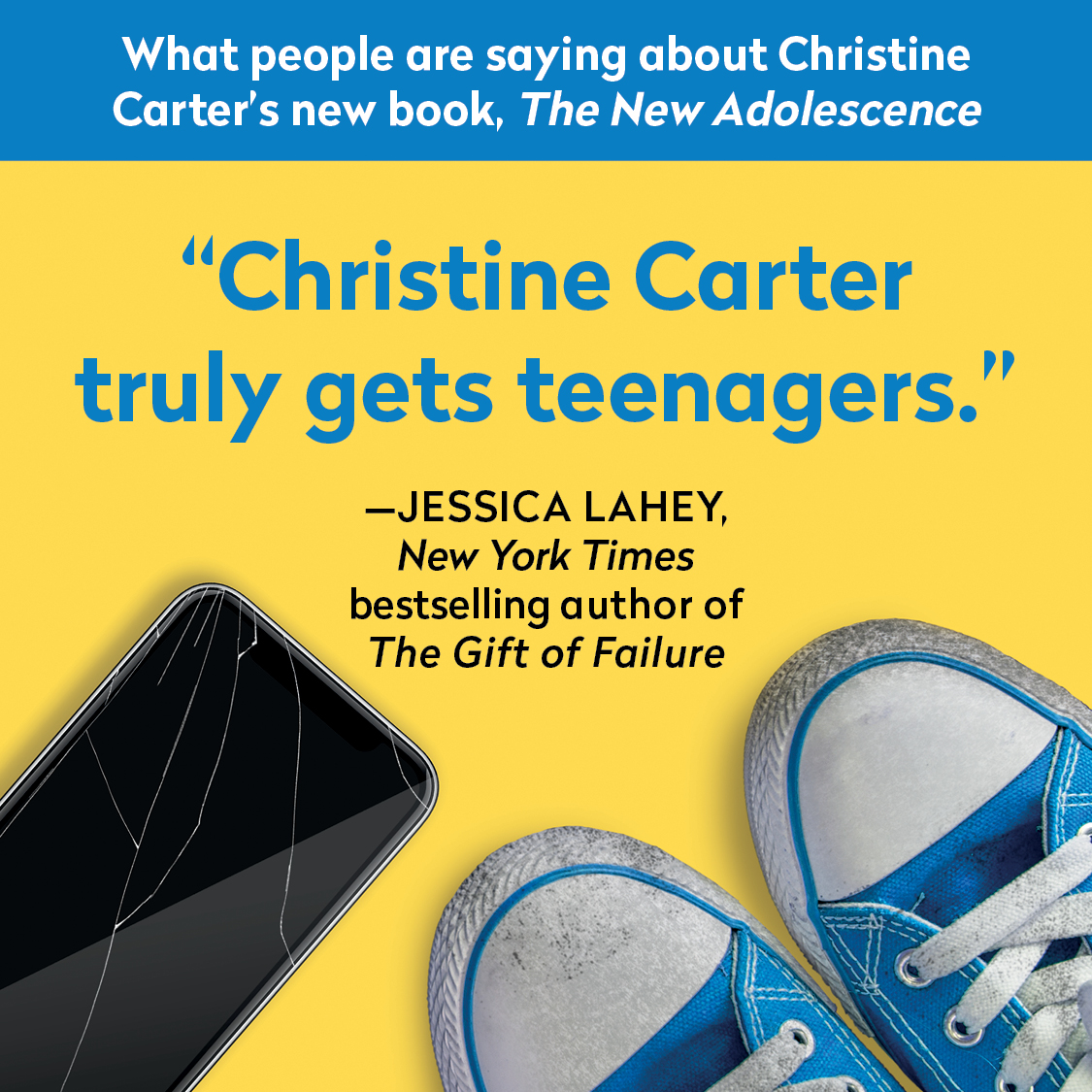 The New Adolescence: Raising Happy and Successful Teens in an Age of Anxiety and Distraction launches today! Many of you have already pre-ordered it or are planning to attend a book event, and for that, I am profoundly grateful. 
100% of Profits Fight Poverty
Have you been meaning to get a ticket to a book talk or pre-order the book? If you do it now, you'll be helping me AND many others. How? I am donating everything I earn on pre-orders to Tipping Point Community. Located here in the San Francisco Bay Area, Tipping Point identifies and invests in the most effective anti-poverty solutions by funding a portfolio of poverty-fighting organizations.
Pre-orders matter a lot.
Booksellers take note of a new title's pre-orders as an indication of reader support and enthusiasm. Those who haven't yet stocked The New Adolescence are likely to do so if pre-orders are strong. And booksellers are more likely to feature it in their stores or online during the launch week — which is exactly what we need. So I'm humbly asking you to pre-order the book, as an act of kindness and friendship (in addition to hopefully being a helpful book for you to read). I will do my best to return the favor by sending you free gifts.
Okay. I'm done asking for favors. 
In thanks for all that you do for me, we've put together a few bonus gifts for you. Click here to pre-order and then claim your gifts here!
Again, THANK YOU.
Without you readers, there's no gig for me here. I'm so, so, so grateful for you!
Lots of love,

About The New Adolescence
I wrote this book because, like many parents, I was baffled by problems that didn't exist when I was a teenager (like social media, sexting, and vaping). It's a practical guide to:
Providing the support and structure teens need (while still giving them the autonomy they seek)
Influencing and motivating teenagers
Helping kids overcome distractions that hinder learning
Protecting them from anxiety, isolation, and depression
Having effective conversations about tough subjects–including sex, drugs, and money
A highly acclaimed sociologist and senior fellow at UC Berkeley's Greater Good Science Center, Dr. Christine Carter melds research–including the latest findings in neuroscience, sociology, and social psychology–with her own real-world experiences as the mother of four teenagers.
The New Adolescence is filled with road-tested, science-based solutions for raising happy, healthy, and successful teenagers in this age of distraction, anxiety, and accelerated change.
What Do Other People Have To Say?
"Mixing cutting-edge science with humor and personally earned wisdom, Christine Carter makes a convincing case that we need to step up our parenting with our teens. Fortunately, she also tells us how to do so in The New Adolescence in ways that seem not just possible in our busy lives, but deeply practical and empowering for both parents and adolescents."
Daniel J. Siegel, MD
Bestselling author of Brainstorm
"The New Adolescence is a sane, informative, and helpful book that I will be gifting over and over. It has already made me a better parent—and a happier one, too."
Jessica Lahey
New York Times bestselling author of The Gift of Failure
"Dr. Carter brings her wonderful blend of solid science, practical suggestions, and warm encouragement to the biggest challenge most parents face: raising teenagers these days. The New Adolescence is both deep and accessible, comprehensive and fast-paced, and honoring of adolescents and respectful of parents' needs for reasonable authority."
Rick Hanson, Ph.D.
Author of Resilient, Hardwiring Happiness, and Buddha's Brain
"Christine Carter has spent the last two decades honing the art and studying the science of effective parenting. This hands-on book is the guide every parent of teenagers needs."
Susan Stiffelman, MFT
Author of Parenting Without Power Struggles
"With solid research, relatable storytelling and practical strategies and tactics, Christine Carter provides teens, parents and families with the lifelines they need to create meaning, fulfillment and the human connection that makes real life worth living."
Brigid Schulte
Author of Overwhelmed and director of The Better Life Lab at New America