No one can give you anything–love, shame, self-esteem–until you give it to yourself. Today, give yourself good things."
–Martha Beck
---
We all have so many gifts to share that can change the course of other people's lives profoundly for the better. Here, the father of a little girl with cancer gives one of the biggest gifts imaginable to his daughter's doctor: meaning and fulfillment.
---
Vision without action is a daydream. Action without vision is a nightmare."
– Japanese proverb
---
Did you know that happiness is much better thought of as a set of skills you can learn and practice than it is an inborn personality trait? Believe it or not, it is! Research suggests that 40% of our happiness depends on our daily activities.
This means that we can become markedly happier by changing our habits and simple day-to-day-behaviors! How happy we are is as much knowing what to practice as anything else.
Guess what? UC Berkeley's Greater Good Science Center is offering a free, eight-week online course, called "The Science of Happiness." This class will offer you practical strategies for nurturing your own happiness, and you'll be able to engage with some of the most provocative and practical lessons from this science. Each week, you'll learn a new research-tested practice that fosters social and emotional well-being—and be able to track your progress along the way.
The course's co-instructors, Dacher Keltner and Emiliana Simon-Thomas, are both leading authorities on positive psychology and gifted teachers skilled at making science fun. They'll be joined by world-renowned experts discussing themes like empathy, mindfulness, and gratitude—experts including Rick Hanson, Barbara Fredrickson, Paul Ekman, Sonja Lyubomirsky, Kabat-Zinn and yours truly!
Register now for this FREE online class – goes live tomorrow, September 9!
---
I love this! A great way to foster compassion and make sure no one is made to feel less-than. Empower kids to #endbullying.
---
Never look down on anybody unless you're helping them up."
– Jesse Jackson
---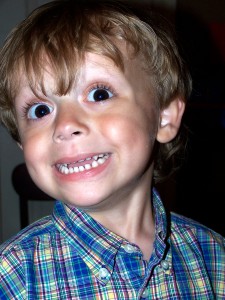 Are you documenting this Labor Day with lots of pictures? (My kids are certainly smiling–only 3 days of school and already a holiday!) Say cheese along with your friends and family and boost your own happiness in the process.
Here's an amazing fact: facial expressions and body postures alone can actually make us feel. Facial expressions alone, without first feeling the corresponding emotions, are enough to create the discernible changes in your nervous system. Tighten your jaw and narrow your eyes as if you are really angry. Your body will usually release adrenaline and your heart rate will speed up as if you are actually angry. The same thing is true for positive emotions. This means that sometimes we should just smile, even if we don't feel like it.
Take Action: Move your facial muscles so that you are technically smiling. When you lift up your lips and crinkle your eyes, your body will release all kinds of feel-good brain chemicals into your system after a couple of minutes. You can hold a pencil between your teeth or mimic the act and you will likely slow your heart rate and start to feel calmer, happier. Warning: I've found that the pencil clenching trick works, but it makes me drool.
Join the Discussion: Do you feel a little happier? Share in the comments.
---
Why we need to stop dreaming about becoming someone we admire, and get busy becoming ourselves.
---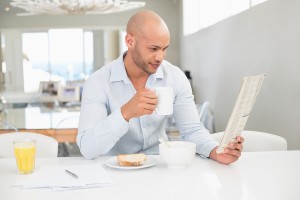 I LOVE THE FALL!!!
I'm getting very excited for September, and not just because my kids are headed back to school this week…I love the fresh start that the new school year brings, and I love my routines! We've had a wonderful summer, but there is something that is still so exciting for me about getting back into the swing of getting up early again, and about having a regular schedule.
Researchers believe that the brains in both humans and animals evolved to feel calmed by repetitive behavior, and that our daily rituals and habits are a primary way to manage stress. Ever notice that you always drive to work the same way, even though there are dozens of other routes? Or that you always put deodorant on right after you brush your hair? Each of us has hundreds of little habits that carry us through the day. The fast-paced world we live in can feel quite unpredictable, but our daily rituals can help us feel more in control, often without us ever realizing it.
Take Action: Return to routine. What daily routine or ritual did you drop this summer that will provide you with a little respite of calm if you get back into it this fall?
Join the Discussion: What routine do you look forward to getting back into? Leave a comment to inspire others.
---
My kids go back to school on Wednesday. Until then, I'll experience vicarious joy through @WhatsUpMoms